Ideal?  I think not.  Fun?  Most definitely!  One of my favorite things about Dusko and I's relationship is that is has always been based on being very sporadic/spur of the moment.  This has absolutely changed since we have children and is not the most practical way to live life.  Dusko recently mentioned he had to go to Baltimore for work and would have to be there on a sunday since they start at 8am Monday.  He had an idea-Let me tell you, the man has GREAT ideas!  Usually better than mine.  lol.  At any rate, that is how I ended up in the nations capital for one day.
Our agenda:
(after lots of fb recommendations and searches)
8:45am-Land at DCA
10am-Arlington National Cemetery
This came recommended by almost everyone and I am SO glad we went here.  It is just beautiful and leaves you mesmerized by the lives that have been lost fighting for this country.  Make sure you watch the changing of the guards at the tomb of the Unknown Soldier.  It's quite cool to see that the USA still does something like this.  I mean there is literally a soldier that stands there ALL hours of the day, EVERYDAY of the year.
Noon-Georgetown
So awesome here, the shopper in me wanted to park and just walk the tree lined streets of unique boutiques but knowing we had so much to squeeze in I just couldn't!  So we went to the harbor and had lunch at Farmers Fishers Bakers.  Would highly recommend this, the brunch buffet was the best buffet I've ever had.
2pm-Check into Hotel
The Kimpton Hotel Palomar, it was cute, trendy, perfect for one night but I wouldn't suggest this hotel.  I have stayed at quite a few other Kimpton properties and this just didn't seem to be at the same level.  Good location though and that is what was important to us.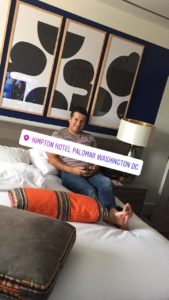 2:30pm-Walk to the White House
This was probably my favorite part of our visit.  I am 36 years old and have never been to Washington D.C., so to see the White House in person was pretty cool.  It was way smaller looking than I had expected.  There was also a TON of caution tape blocking the street so you can't even stand right by the fence.  We actually thought for a minute that maybe there was a different view of it because of it being blocked.  When we were there we actually saw Trump(I still can't believe he is our president) land in his helicopter which was also pretty cool.
3pm-Washington Monument
This monument stands so tall that it really is awesome just to look at.  We spent quite a bit of time walking around here and just enjoying the scenery as it was a beautiful day!
4pm-W Hotel-Washington
We came for the alcohol!  lol, really though, the hotel is steps from the White House, so we went to the rooftop bar for a drink.  The view from up there is something everyone should see!
5:30pm-Find Graffiti wall full of hearts
I thought Dusko was going to kill me, we got in an uber to find this wall full of graffiti hearts that I just had to take pictures in front of.  Of course we had the wrong address and our uber driver had no clue what I was talking about.  Good news, we ran into a nice family that the daughter knew exactly what we were looking for!!!
Jackpot:  the wall just so happens to be outside of a super cute and trendy market-Union Market.  Do yourself a favor and visit the market!  You feel like a local and the food venues are delicious!
7pm-National's Game
For those of you that know us, did you think we were going to head to Washington D.C. and not go to a sporting event?!?!?  Really this is what Dusko's idea was about me heading to DC with him!  lol, I obviously turned it into us prancing around this awesome city!  At any rate, no baseball stadium will ever top Wrigley Field in my book but I do enjoy visiting them!  And hot dogs/beer are a nice bonus.
Some people may think we are crazy, but this was such a fun 24 hours with my husband!  No diapers to change, no strollers to grab, just running around exploring!  Don't think about it, just do it!
XOXO,
Alissa
Disclamer:  there were a TON of other things we wanted to see and do, but for 24 hours this fulfilled both of us!