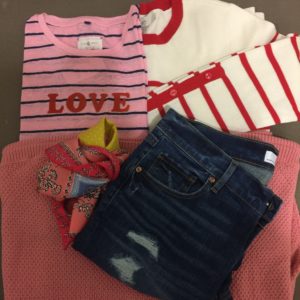 Loft isn't always a store that I have shopped at before but I definitely ALWAYS find cute things!!!  Emme and I went this morning while Max was at school and did a try on session.  These were my favorite items!  Everything is linked directly to the item.  I didn't end up buying anything today which is super odd because I liked everything!!  But they had 40% off tops, not sweaters and almost everything was a sweater!  Online there is currently $50 off a $100 purchase, and free shipping over $75!  So , duh!  Shop online!  (wore a size medium across the board)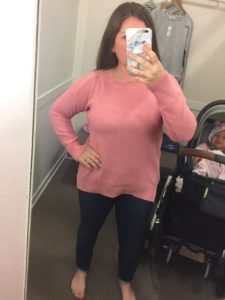 This Boatneck Sweater is super comfy, not too thick and comes in 4 colors.  I took a close up of the small boatneck detail that makes it a little bit different than your normal sweater.  I also love the longer in the back part because I do wear leggings a lot!  Shop it here!  Was wearing my Scupltek jeans from Athleta, shop them here
I LOVE me some stripes, especially when they have a little extra detail.  Like the neck and sleeves, also love that its red stripes, and February!  See how it opens up at the wrist!
Shop it here
These jeans I changed into are loft, and was very happy with the amount of stretch, and rips!  Shop them here Size 8 for reference
This top is SO much cuter on than expected!!!  I love the sleeves, a little tiny bit statement and the cute floral print that peeps out at the bottom!  Shop it here
Lou & Grey is such a great addition to LOFT.  For those of you that don't know about it, it's basically an athleisure department at LOFT.  This sweatshirt is a dream for me, it has statement sleeves, is navy stripes, and has a hood.  Also like the cropped detail!  Shop it here
This adorbs Heart Sweater is also Lou & Grey, I mean, who wouldn't want this for February!?!?!?  I like the shorter sweater and the cropped sleeves, was a little bit itchy.  Must have some wool in it.  Shop it here
Saved the best for last with this adorable combo!  This long sleeve tee is Lou & Grey, fits tighter than I expected.  Of course love that it says-LOVE!  This was in the back of the store, when I saw it I immediately pictured it with this scarf so had to run back up front to grab it!  Perfect V-day outfit!
Shop the top here
and scarf here
Coming from a retail background, I would rate this shopping experience a 9!  They are always super helpful here and read customer cues on if you need them or not.  Maybe they work on comission, not sure!?!?!
Happy Fit Day, Fri-Day!
XOXO-
Lissa